Led Light Aluminium extrudierter Kühlkörper
Wir bieten seit zehn Jahren thermische Lösungen für fast alle industriellen Anwendungsbereiche an, die Elektronik, Stromerzeugung, Rechenzentren, neue Energie, Automobil, Medizin, Chemie und Baumaschinen umfassen.

Anfrage
Geben Sie Produktdetails oder andere spezifische Anforderungen ein, um ein genaues Angebot zu erhalten. Wir antworten innerhalb von 24-Stunden.
PRODUCT DESCRIPTION

NO.

ITEM

DESCRIPTION

1

Material

Aluminum alloy 6060,6061,6063,T3,T5

2

Dimension (L*W*H)

Up to 400*300*120 mm

3

Fin Spacing

Minimum 2.5 mm

4

Fin thickness

Minimum 1.5 mm

5

Cooling Capacity

Up to 800 W

6

Flatness for mounting surface

0.15 mm

7

Manufacturing Method

Aluminum extrusion PLUS further cnc machining if needed

8

Cooling Method

Natural or forced air cooling

9

Surface Finish

Mill finish or anodization

10

Warranty time

1 year

11

Place of Region

Jiangsu province of China

12

Reference Standard

GB/T 3190-2008,GB/T 14846-2008,ISO 2768

Metalli's heat sink technologies include
◆ CNC machined aluminum fins heat sink
◆ Skived aluminum heat sink
◆ Vacuum brazed bonded aluminum fins heat sink
◆ Extruded aluminum heat sink
◆ Die casting aluminum heat sink
◆ Epoxy glued bonded aluminum fin heat sink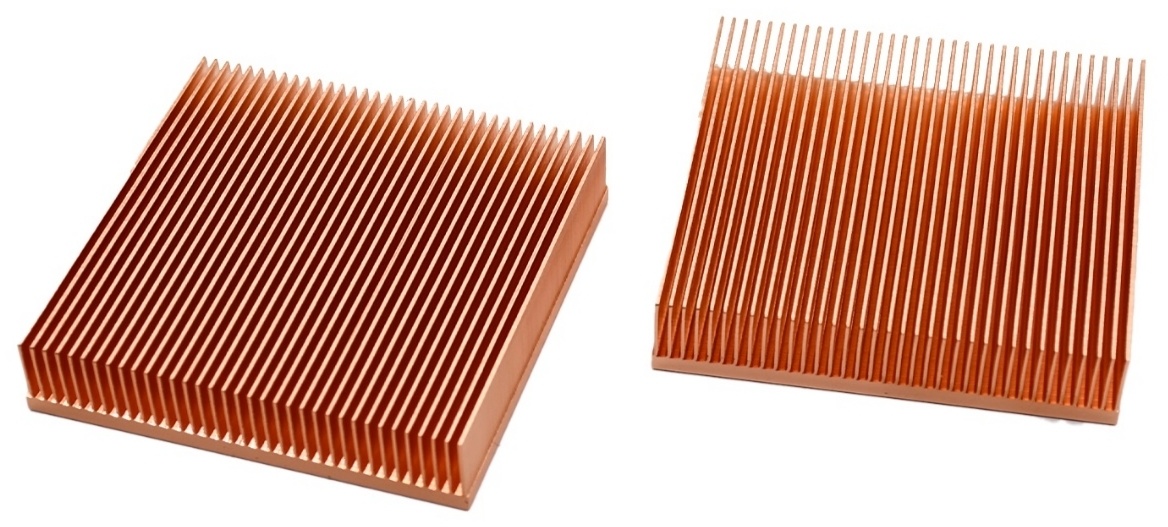 ▲ Copper heat sink
Metalli's manufacture a wide range of heat sink include
● Cpu gpu ram heat sink
● Led aluminum heat sink
● Heat sink aluminum enclosure
● Copper heat pipe heat sink
● Liquid water cooling heat sink
● Inverter Aluminum Heatsink
● Other custom heat sinks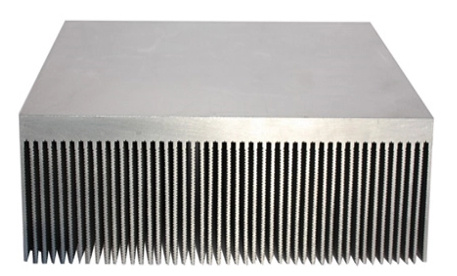 ▲ Skived aluminum heat sink with copper heat pipe
Brief of heat sink
A heat sink (also commonly spelled heatsink) is a passive heat exchanger that transfers the heat generated by an electronic or a mechanical device to a fluid medium, often air or a liquid coolant, where it is dissipated away from the device, thereby allowing regulation of the device's temperature. In computers, heat sinks are used to cool CPUs, GPUs, and some chipsets and RAM modules. Heat sinks are used with high-power semiconductor devices such as power transistors and optoelectronics such as lasers and light-emitting diodes (LEDs), where the heat dissipation ability of the component itself is insufficient to moderate its temperature.
A heat sink is designed to maximize its surface area in contact with the cooling medium surrounding it, such as the air. Air velocity, choice of material, protrusion design and surface treatment are factors that affect the performance of a heat sink. Heat sink attachment methods and thermal interface materials also affect the die temperature of the integrated circuit. Thermal adhesive or thermal paste improve the heat sink's performance by filling air gaps between the heat sink and the heat spreader on the device. A heat sink is usually made out of aluminum or copper
Heat Sink
led heat sink
light heat sink
led light heat sink
led bulb heat sink
extruded heat sink
aluminum extruded heat sink